Hey Friends:
We are pleased to announce our winter touring schedule for Camper Van Beethoven and Cracker.  First the big news:

CRACKER AND CAMPER VAN BEETHOVEN RETURN TO THE THE GREAT AMERICAN MUSIC HALL!!!
DEC 30th and 31st.
Buy Tix For 30th here 31st here 
Our (by now traditional) California holiday run is a little different this year. This time we head out across the Southwest, hitting Tucson AZ, Austin, Dallas and the legendary Big Barn at Dosey-Doe in Woodlands TX. 
MLK holiday weekend we hit DC, Philly, Boston and NY.  
And finally...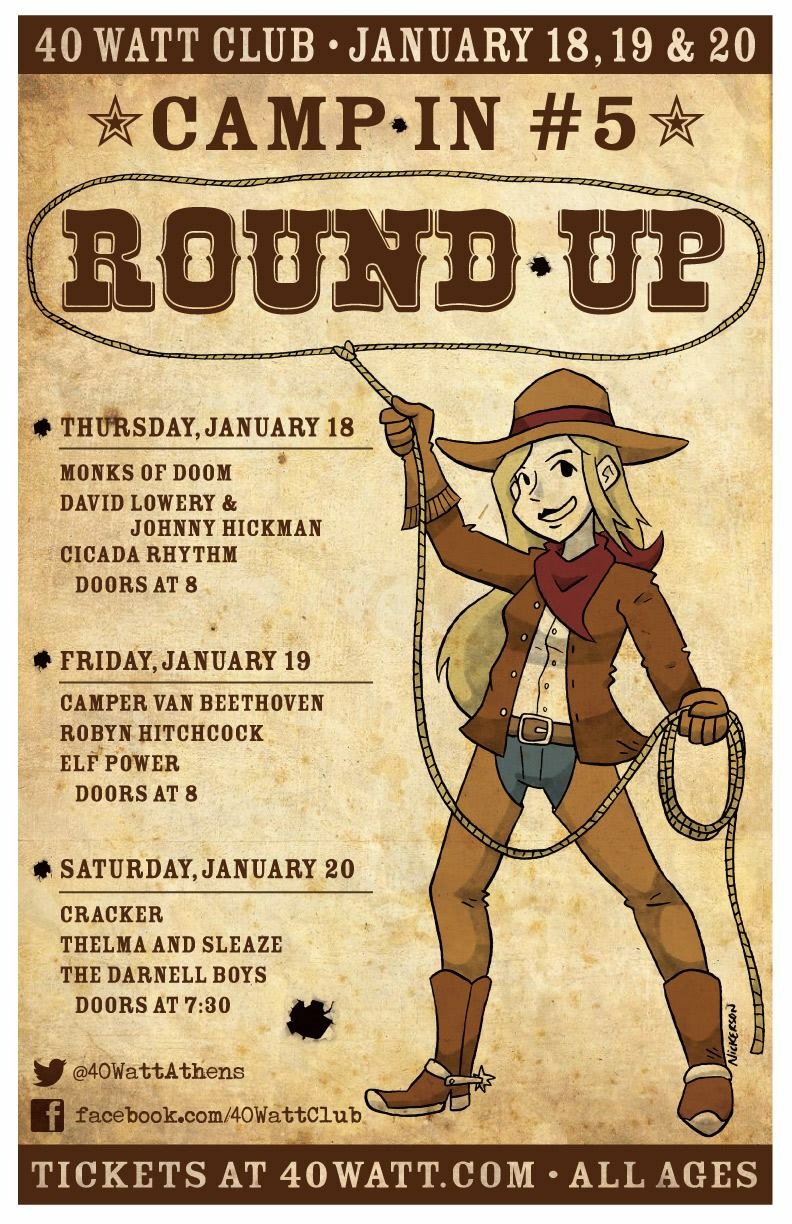 We close out the tour with three nights at the Cracker/Camper Van Beethoven Camp-in (no camping involved).   3 days of great music from the family.  Cracker, Camper Van Beethoven, Robyn Hitchcock, Elf Power,  Thelma and the Sleaze, The Darnell Boys, Monks of Doom, Johnny Hickman, Jonathan Segel David Lowery.  
TOUR DATES

Wednesday, December 27 @ 7:00 PM
Cracker & Camper Van Beethoven: Live at Belly Up
BELLY UP, SOLANA BEACH, CA 92075 

Thursday, December 28 @ 8:00 PM
Cracker and Camper Van Beethoven at The Teragram Ballroom
THE TERAGRAM BALLROOM, LOS ANGELES, CA 90017

Friday, December 29 @ 7:00 PM
Cracker and Camper Van Beethoven at The Catalyst
THE CATALYST, SANTA CRUZ, CALIFORNIA 95060

Saturday, December 30 @ 8:00 PM
Cracker and Camper Van Beethoven at Great American Music Hall
GREAT AMERICAN MUSIC HALL, SAN FRANCISCO, CA 94109

Sunday, December 31 @ 8:00 PM
Cracker / Camper Van Beethoven / Johnny Hickman - NYE!
GREAT AMERICAN MUSIC HALL, SAN FRANCISCO, CA 94109

Tuesday, January 2, 2018 @ 7:00 PM
Cracker Camper Van Beethoven in Tucson
191 TOOLE, TUCSON, AZ 85701

Friday, January 5, 2018 @ 7:30 PM
Cracker Camper Van Beethoven Austin
3TEN @ACL LIVE, AUSTIN, TX 78701

Saturday, January 6, 2018 @ 7:00 PM
Cracker & CVB at Gas Monkey Bar & Grill
GAS MONKEY BAR & GRILL, DALLAS, TX 75220

Sunday, January 7, 2018 @ 7:00 PM
Cracker Camper Van Beethoven The Big Barn
THE BIG BARN AT DOSEY DOE, THE WOODLANDS TX 77380
Thu, Jan 11, 2018 @ 6:00 PM
9:30 Club, 815 V Street, N.W., Washington 
Camper Van Beethoven and Cracker 

Friday, January 12, 2018 @ 8:00 PM
Cracker & CVB at Theatre of Living Arts - Philadelphia
THEATRE OF LIVING ARTS, PHILADELPHIA, PA 19142

Saturday, January 13, 2018 @ 8:00 PM
Cracker & CVB at Middle East Downstairs - Cambridge
MIDDLE EAST DOWNSTAIRS, CAMBRIDGE, MA 02139

Sunday, January 14, 2018 @ 7:00 PM
Cracker & CVB at Highline Ballroom - New York
HIGH LINE BALLROOM, NEW YORK, NY 10011
Thursday, January 18, 2018 @ 7:00 PM — Saturday, January 20, 2018 @ 11:55 PM
Cracker CVB Camp-in 3 Day Festival
40 WATT CLUB, ATHENS, GA 30601

Thursday, January 18, 2018 @ 8:00 PM
Camp-in #1 Cracker Trippy Trio, Monks of Doom, Cicada Rhythm
40 WATT CLUB, ATHENS, GA 30601

Friday, January 19, 2018 @ 7:00 PM
Camp-in #2 Camper Van Beethoven, Robyn Hitchcock and Camper Van Beethoven
40 WATT CLUB, ATHENS, GA 30601

Saturday, January 20, 2018 @ 8:00 PM
Camp-in #3 Cracker, Thelma and the Sleaze, The Darnell Boys
40 WATT CLUB, ATHENS, GA 30601