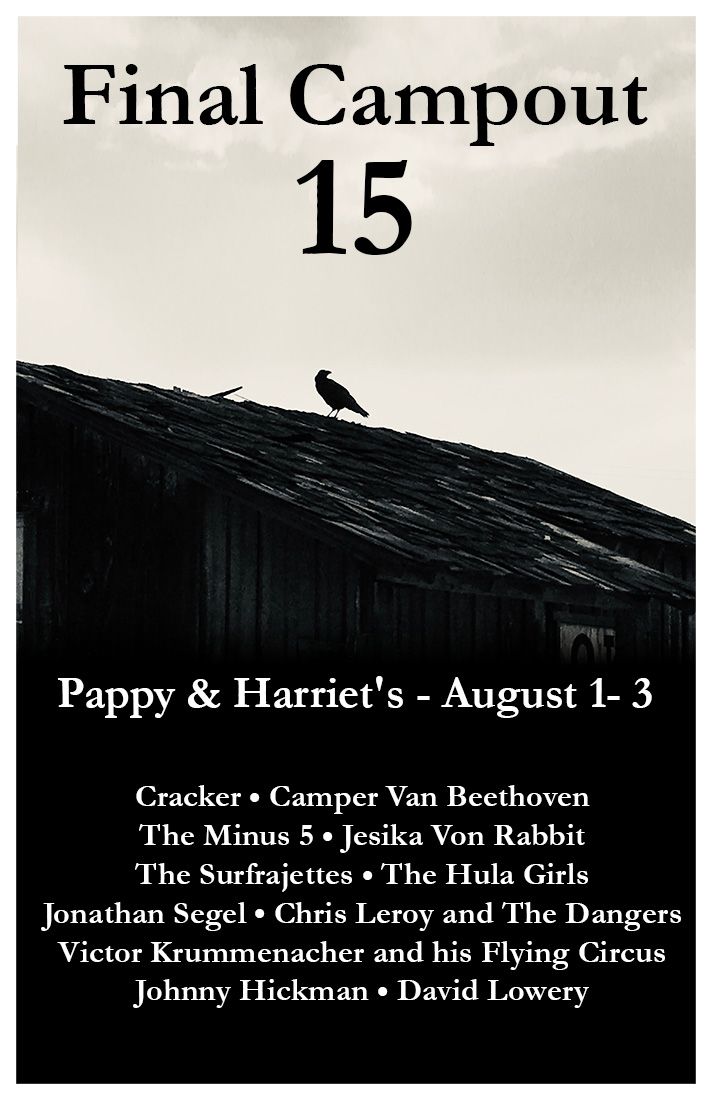 Hello all
I want to thank each and every one of you for supporting the Cracker Camper Van Beethoven Campout each year.  It truly has been an amazing experience. I have gotten to know so many of you, learned your stories, personal histories and, if you will allow me the metaphor, your songs.  I am truly humbled you have allowed me to experience your lives in this unique way. 
The first year Velena and I began to plan this event I remember thinking:  "This is either gonna be the best thing the bands have ever done, a career defining event or a total disaster."  I think it was the former. Don't you agree? However this will be the last and final Campout.  It's not about ending it on a high note, for every year was a high note for one of us, right? It's not about the money as every year has done a little bit better than the last. It's not about us getting older. We have gotten older, so what?  It's not about times a-changing as times are always a-changing.  It's not even about Pioneertown and the high desert becoming a little more glamorous and exciting place to be. We feel like we (bands and crumbs) helped to bring this positive change about by sharing one of our favorite places on earth with many of our friends and family. That was kind of the point of the campout. Mission accomplished.
This is the last Campout simply because every story has a beginning and an end. And as one of the authors of this story I have to say this is the perfect ending.  If this were a TV series we're trying to avoid the mistake of going one season too long..  We will not be adding a baby to the show. We will not be introducing a new character like the wisecracking cousin Shamus Van Beethoven from Philadelphia.  Fonzie will not be putting on water skis and no sharks will be jumped.
Thanks so much to Robyn and Linda the owners of Pappy's and Harriets for having us year after year and keeping the chaos under control.  Thanks to all my bandmates for putting in extraordinary performances year after year.  And of course the campout stage, sound & lights, logistics, security and catering crew for pulling off a miracle each year. And thank you especially to Velena Vego the Den Mother for being the CEO, CFO, COO and county sheriff.  
This is not to say we won't play in Pioneertown in the future. This is not the end of Cracker or Camper Van Beethoven.  Indeed we are already scheduling joint concerts for later in the year. There may be future events similar to the Campout. We are playing it by ear.  Looking for new things and new challenges. 
Regardless celebrate, rejoice and start planning. This is gonna be the best Campout yet.  Here are the deets.
-David Lowery
NEW SHIT HAS COME TO LIGHT:  The Minus 5 featuring Scott McCaughey and Peter Buck will play saturday night!
3 Day passes and Friday Saturday passes now on sale here. 
This year we are adding a fourth night.  Wednesday afternoon/evening.  We are calling it the Campout Tailgate.  This will not take place in Pioneertown but in equally unique and quirky settings in the area.  This will be ticketed separately. The Joshua Tree Palm Springs area is full of all kinds of unusual and historic places. You won't be disappointed. Thursday will of course be in the main bar at Pappy and Harriets featuring acoustic performances and guests.  Friday night will be CVB and Cracker with CVB headlining.  Saturday night we switch.  There will be the usual special guests, solo bands and side projects.  We will announce more later. 
So in Summary. 
Jul 31, 12:00PM   Campout Tailgate  Various Locations TBA, Joshua Tree/ Desert Hot Springs/ Palm Springs Area
 
Aug 1, 7:00PM    Final Cracker Camper Van Beethoven Acoustic     Pappy and Harriets, Pioneertown CA 92268     
 
Aug 2, 7:00PM    Final Cracker Camper Van Beethoven Night One  Pappy and Harriets, Pioneertown CA 92268   
 
Aug 3, 7:00PM    Final Cracker Camper Van Beethoven Night Two  Pappy and Harriets, Pioneertown CA 92268  
Also we have some Spring and Summer shows coming up.  These are the first ones to be announced.  There will be others.
April 12, 6:00PM David Lowery "Songs of Cracker and Camper Van Beethoven" Eddies Attic Buy tix      
 
May 22, 6:00PM    Cracker at The Tin Pan    The Tin Pan, Richmond, VA    Buy Tix
 
May 23, 7:00PM    Cracker at Rams Head On Stage    Rams Head On Stage, Annapolis, MD 21401    Buy Tix
 
May 24, 7:00PM    Cracker at The Queen    The Queen, Wilmington, DE 19801   Buy Tix
 
May 25, 7:30PM    Cracker at Levitt Pavilion Stage    Levitt Pavilion Stage, Bethlehem, PA 18015    Buy Tix
 
Jul 5, 9:00PM    Cracker at Riverfront Rendezvous    Pfiffner Pioneer Park, Stevens Point WI 5448  Buy Tix
July 12- July 28 Various Cracker/CVB Shows Midwest and West TBA leading into Campout.  Stay Tuned.
 
Aug 10    Cracker ©SHAGBARK FARM Calidonia MI    Cowpie Music Festival, Caledonia, MI 49316   Buy Tix