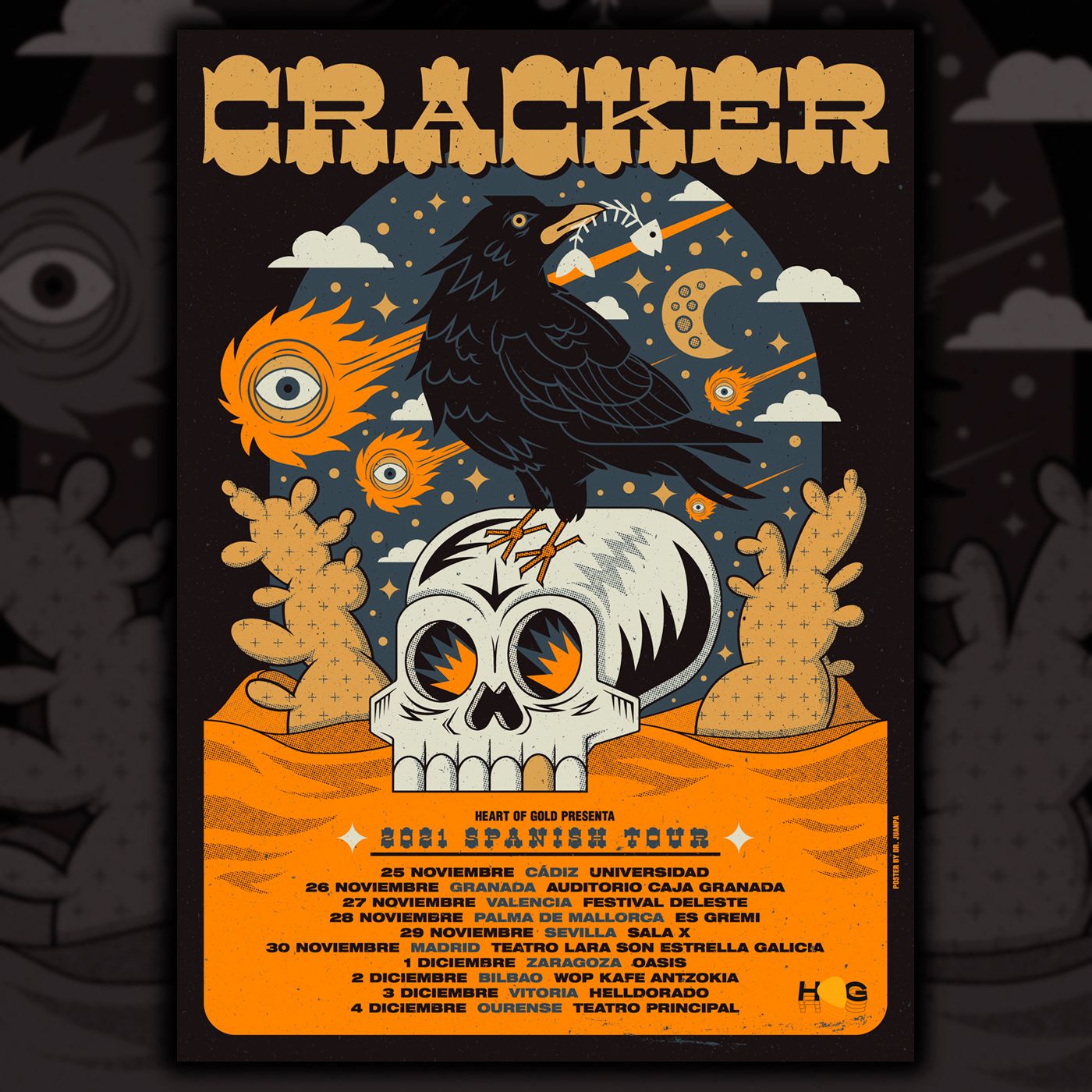 Hi Crumbs
We are very pleased to announce 10 Spanish tour dates. We are so happy to be returning to play for our Spanish fans.  And for our non-Spanish fans, perhaps now is the time to visit Spain? It's a wonderful country and our tour covers nearly every region.

Thursday, November 25
Cracker at Universidad de Cadiz
Universidad de Cadiz, Cadiz, Spain

Friday, November 26
Cracker at Teatro Caja Granada
Teatro Caja Granada, 18006 Granada, Spain

Saturday, November 27
Cracker Festival Deleste Valencia
Festival Deleste, Valencia, Spain
Get Tickets

Sunday, November 28
Cracker Palma de Mallorca Es Gremi
Es Gremi, Palma de Mallorca Spain

Monday, November 29
Cracker Sala X Sevilla
Sala X, Sevilla, 41011

Tuesday, November 30
Cracker at Teatro Lara Madrid
Teatro Lara Madrid, 28004 Madrid, Spain
Get Tickets

Wednesday, December 1
Cracker at Oasis Club Teatro Zaragoza
Oasis Club Teatro, 50003 Zaragoza, Spain

Thursday, December 2 @ 9:00PM
Cracker in Bilbao WOP Kafe Antzokia
Kafe Antzokia, 48001 Bilbao
Get Tickets

Friday, December 3
Cracker at Helldorado Vitoria-Gasteiz
Helldorado, 01006 Gasteiz, Araba

Saturday, December 4 @ 9:00PM
Cracker at Teatro Principal Ourense Spain
Teatro Principal, 32005 - Ourense
Get Tickets
 
Generally tickets are not available that far in advance in Spain. We have provided links to the shows that have tickets on sale. Most of these places are fairly big and won't sell out.  The exception is Helldorado in Vitoria-Gasteiz in the Basque Country. Maybe Sala X in Sevilla. Monitor the websites or set up a google alert. 
For those of you with COVID concerns, Spain has one of the highest vaccination rates in the world. They have a QR code system that lets you use your phone as proof of vaccination (and also documented natural immunity).  If you're living in a US state or city with strict mask regulations you may or may not be surprised to learn masking regulations are generally less strict in EU countries. If that's a concern, this is not for you. 
Here is link to the Spanish Ministry of Health:
https://www.spth.gob.es/faq?tab=2
US DATES FALL
We also have a few Southeast US dates in late October and early November.
Friday, October 29 @ 8:00PM
Cracker Neighborhood Theatre Charlotte
Neighorhood Theatre, Charlotte NC 28205
(Masks Proof of Vaccination)
Get Tickets

Friday, November 12 @ 7:00PM
Six Strings for a Cure Presents Cracker
Strand Theatre, Marrietta GA 30060
Get Tickets

Saturday, November 13 @ 7:00PM
Cracker- Ashley Street Station Valdosta
Ashley Street Station, Valdosta GA 31602
This is in Southern Georgia. It is what it is.